Improving Our Products and Services
To respond to an increasingly diverse market and sophisticated customer requirements in a timely fashion, we are enhancing our integrated supply chain from material procurement to processing and distribution.
Stable product supply, unwavering quality assurance
To build the optimal processing and sales system we need, we are enhancing our regional sales channels and increasing the Group's capital investment and overall efficiency. We have proven quality principles and yet never stop striving to upgrade our quality assurance to ensure customer satisfaction and trust. To eliminate human error, we promote systematization and automation at our processing centers in Japan and overseas. And because raising employee awareness is essential to preventing human error during the ordering, processing and shipment stages, we educate employees about quality using non-compliance case studies both from our Group companies in Japan and overseas and other companies as teaching material. We also conduct regular audits of targeted Group companies in Japan and overseas to monitor and advise on quality assurance. When follow-up is necessary, we monitor the progress of improvements on an ongoing basis to maintain and improve quality assurance levels.
Initiatives to improve customer satisfaction
We emphasize employee education through skills training and other initiatives, based on our belief that it is essential to provide higher-level proposals to meet the increasingly sophisticated needs of customers. On top of that, we conduct group training for selected local staff from overseas subsidiaries and offices to boost customer satisfaction both in Japan and overseas.
Creating Workplaces in Which Employees Can Work with Vigor
We are working to maintain and improve the health of our employees and their families and create workplace environments in which employees can work safely and with peace of mind and vigor.
Health and safety initiatives
We pursue health and safety initiatives designed to eliminate unsafe operations that could lead to serious accidents, striving for zero serious accidents at coil centers and other processing facilities.
This includes: (1) having managing supervisors perform worksite patrols to identify unsafe operations and frequent risk assessments through the steady implementation of hazard predictions, etc. by workers; (2) reviewing similar accidents and performing hands-on danger drills so that workers are more aware of unsafe operations and avoid them; (3) upgrading equipment for greater safety, such as installing safety sensors to reduce risk; and (4) raising employee awareness of compliance with rules through operational training (such as crane slinging) and reviews of work standards.
In addition, we have assigned safety managers at each Group company to promote these safety activities and are raising the level of health and safety activities at each company. Moreover, we have established a safety officer meeting at which safety officers share knowledge and information related to health and safety every other month to ensure that everyone across the JFE Shoji Group shares the same values.
Whenever an accident is serious enough to require time off work, the president of the Group company concerned reports it to top management so that the entire JFE Shoji Group can enhance safety management. There is also an annual safety commendation system to promote these activities. We use these activities to raise the level of Group-wide safety management and continually promote safe and secure working environments.
Results and primary initiatives of FY2020
Zero accidents resulting in death (we have had no deaths since 2018)
Promote safety sensor installation (to be competed at all facilities by November 2021)
Ongoing promotion of activities to be implemented
Promote fixed-point patrols (to carefully observe and understand the details of tasks)
Initiatives to support diverse workstyles
To achieve a good work-life balance, JFE Shoji is seeking to reduce working hours through initiatives such as having all employees leave at regular hours on Wednesdays, prohibiting work after 10 p.m., and establishing days to encourage the use of paid leave.
Starting in April 2016, we expanded the flextime system and changed the core time to between 11 a.m. and 2 p.m. We also introduced a work-from-home system for employees with time restrictions, such as for childrearing and family care, and implemented "challenge days" for all employees regardless of restrictions to try out telecommuting and shared offices. Through these and other activities, we are enhancing our support for diverse working styles.
We are increasing the flexibility of our programs in response to the COVID-19 pandemic, including expanding eligibility for working from home to include all employees and provisionally introducing a flextime system with no core time. Looking ahead to the post-COVID-19 age, we have also launched a project team to review potential new workstyles. We aim to boost efficiency and allow more flexible workstyles, including promoting paperless operations and determining what offices will suit the "new normal."
J-SLIM operational reform activities
We continue to promote J-SLIM operational reform activities as a way to boost operational efficiency and performance. We began introducing RPA in 2018, and its use has spread throughout the company. Automation has allowed us to substantially reduce the time we spend on operations by 46,000 hours per year (a little over 3,800 hours per month). This has also helped us provide our services faster and improve productivity. In addition, we are working hard to build a new working environment, including promoting the digitalization of internal systems using the latest IT tools. In response to the rapid environmental changes that began last year, we have accelerated operational reform and intend to create a corporate culture that continually pursues changes to enable new workstyles suited to the changing times.
Revitalizing worksites through small group activities (J1 activities)
JFE Shoji Group companies in Japan engage in J1 activities as a way to solve manufacturing challenges related to safety, quality, cost, operations and delivery. Around twenty representative teams from our Group companies report on the results of their activities at the annual J1 presentations, and the outstanding teams earn awards. We will continue to pursue J1 activities to revitalize workplaces and improve problem-solving capabilities. The results are then rolled out to Group companies.
Initiatives That Make the Most of Diverse Human Resources
We promote initiatives designed to foster a corporate culture in which diverse human resources play active roles based on various workstyles.
Promoting diversity
We hold diversity seminars for management and conduct diversity management training for managers, including managerial positions at Group companies. We also proactively support women's careers, including through mentor programs and next-generation leadership training. In June 2021, we received the Ministry of Health, Labour and Welfare's "Eruboshi" certification in recognition of our initiatives to promote the participation and advancement of women in the workforce. In addition, we hold meetings for employees on childrearing leave to allow them to share information, and we conduct follow-up training after they return to their jobs so that they can continue to contribute at high levels after major life events.
For employees hired locally at overseas locations, we promote global human resources development and exchanges—including providing management training in Japan—with the aim of promoting them to managerial positions. In these and other ways, we have prepared an environment in which diverse human resources can play major roles.
Re-employment system
We are consciously creating an environment that motivates experienced employees sixty years old and above that allows flexible workstyles and is conducive to good health. We offer employees the choice of various workstyles according to their lifestyles, including full-time work, reduced number of working days and reduced working hours.
Training and measures to draw out the full potential of human resources
To expand our trading company business in Japan and overseas, we have prepared training so that employees with diverse backgrounds can flourish in their own location and situation. We conduct skills training to teach trading company employees the basic skills they need—including negotiating skills, financial skills and strategic thinking—as well as new-hire training for mid-career hires. We also seek to raise the expertise of our employees throughout the Group, offering training opportunities to a wide range of employees. This includes overseas training in which employees work at Group companies overseas as well as training in Japan at the Tokyo head office for outstanding employees hired overseas to boost their skills and motivation.
Global human resources development
In addition to hiring and training career-track employees of foreign nationality and local staff overseas, we are also enhancing human resource development through practical experiences by proactively sending young employees overseas. This is in addition to our existing overseas study and training program for Japanese employees.
Main global human resources development programs
Study abroad program
Short-term overseas language training
Overseas dispatch of younger employees
Training program for local staff at overseas locations
Practical training program in Japan for local staff from overseas locations
Social Contribution Activities
We are actively pursuing various social contribution initiatives to help create a more prosperous society. Our overall goal is to become a corporate group whose inherent worth is clear to society and the market.
International education

|Donations to West Africa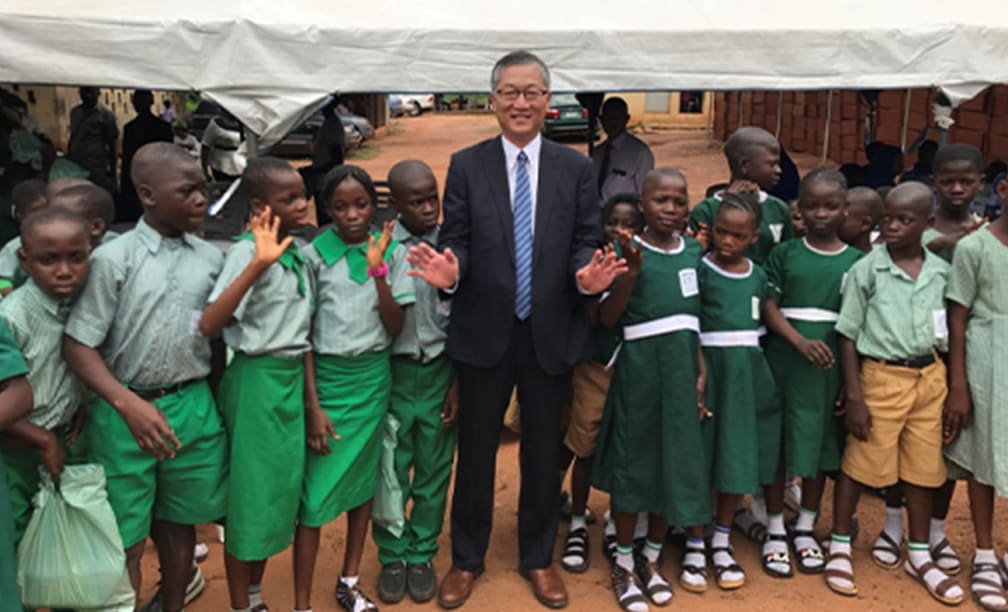 Since 2011 we have been donating desks, chairs, Geisha brand products (canned mackerel in tomato sauce) from Kawasho Foods and other items to elementary schools in Nigeria and Ghana. We do this to support the diet, education and wellbeing of children as part of our international contribution activities. In fiscal 2020, for example, we donated 17,000 notebooks, 12,500 cans of Geisha products, and 12,500 masks for children to 10 elementary schools in Nigeria and 5 in Ghana.
Regional contribution

|Kasumigaura Marathon corporate volunteer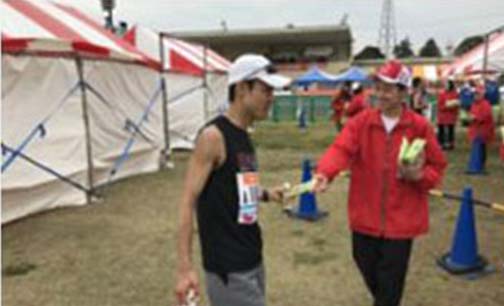 The Kasumigaura Marathon is one of Japan's largest regional marathons. Started in 1991, it is sponsored by multiple organizations, including Tsuchiura City and Kasumigaura City in Ibaraki Prefecture. Because our Real Estate Department owns lots in Tsuchiura City, we've been participating as a corporate volunteer group since 2015 as part of our regional contribution activities. (Note: The event was not held in fiscal 2020 and 2021 due to COVID-19.)
Reconstruction support

|Volunteer work to support reconstruction in disaster-stricken areas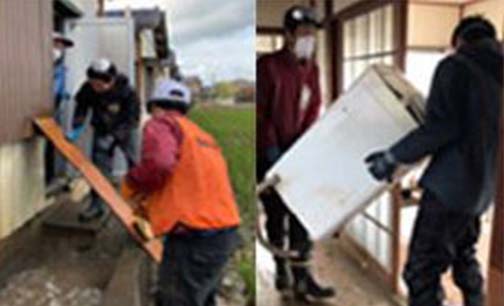 JFE employees travel to areas devastated by natural disasters to participate in local volunteer activities. In November 2019, for example, our employees took volunteer leave to help out in Tochigi, which had sustained heavy damage from Typhoon Hagibis the previous month. They cleaned up mud that flowed into houses and covered residential roads.
Social welfare

|Providing a practical educational opportunity at Eifuku Gakuen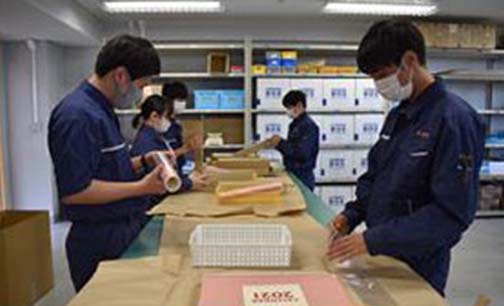 Eifuku Gakuen, one of the Tokyo Metropolitan Schools for Special Needs Education, is located in central Tokyo. It was Tokyo's first school offering high school level vocational courses for students with mild intellectual disabilities. The school's Vocational Skill Department develops people who can contribute to society, and in fact all of its students work for companies. The department has up to 100 students in each grade and a total of around 300 students. Students take one of five courses: clerical, building cleaning, logistics, food, and welfare. The courses are practical in nature, and provide specialized knowledge and skills in training rooms modeled after actual worksites. Since fiscal 2020, JFE Shoji has been entrusting the packaging of our annual calendar to Eifuku Gakuen as part of the logistics course, in which students learn about retail distribution and services. We support vocational education such as this as part of our social contribution activities.